Derby street water slide attracts hundreds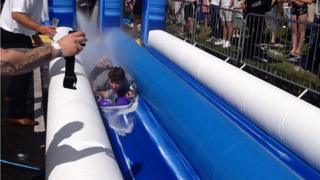 Hundreds of thrill-seekers have taken their chance to slide down a giant water slide in Derby.
The 100m (328ft) inflatable slide went up in Kipling Drive in Mickleover for the day.
Members of the Our Mickleover community group said they got the inspiration from a Bristol artist who installed a 90m (295ft) in the city in May.
Only 500 places for sliders were up for grabs, although more than 2,800 people signed up for the opportunity.
Adam Stevenson, one of those behind the idea, said: "It is essentially a huge inflatable hot dog.
"There's a centre separating two lanes so people can't crash into each other and you can stand at the top and just launch yourself."
Derby para-tri-athlete Phill Hogg was the first to have a go.
Wearing a wetsuit he greased himself up with baby oil to make it easier to slide down.
"I was expecting to go a bit quicker but it is nice that everyone has come out to support it," he said.
"It's all a bit of fun."
Chairman of Our Mickleover, David Lewis, said test runs earlier in the week had been successful.
He said sliders struggled early on, possibly because of a lack of water or the sun drying out the slide.
However, firefighters from the local station saved the day when they turned with two hoses for the event.