Foston 'mega' pig farm 'could harm human health'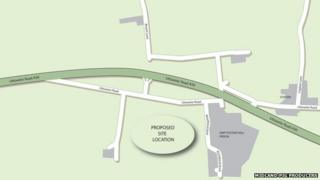 A "mega" pig farm for 25,000 animals poses a significant risk to human health, the Soil Association has said.
More than 32,000 people have signed an online petition against the farm in Scropton, Derbyshire, plans for which have gone on show.
Midland Pig Producers (MPP) said changes to the proposals will improve the pigs' health and reduce the need for antibiotics.
The planning application will not be determined until at least next month.
The farm will have 2,500 sows and about 25,000 piglets, 1,000 of which will be sent every week for slaughter.
'Can't eliminate risk'
Peter Melchett, from the Soil Association, said evidence from large pig farms abroad showed levels of disease increases as farms get bigger and some bacteria, including salmonella, can be transmitted to humans.
He said there was a "significant risk to human health" at nearby Foston Hall women's prison and to villagers in Scropton.
MPP said a temperature control system and a flushing system will reduce respiratory disease in the pigs and lessen the reliance on antibiotics.
But Mr Melchett said "They haven't reduced the size of the operation - that makes it unacceptable.
"These measures may well reduce the risk but they can't eliminate it."
Since the application was lodged in 2011, residents have raised concerns about noise, smell and the treatment of the pigs. Some marched through Derby in protest in 2011.
Celebrities, including The Wire actor Dominic West and chef Hugh Fearnley-Whittingstall have joined the campaign against the farm.
Managing director Mark Baker said: "The plans for Scropton are very complex and we've been very honest from the outset of our intention to get it right - for us, for pig farming as a whole and, very importantly, local residents."
Fully enclosed buildings and odour control systems have been added to the plans, he said.
The county council said the planning application could be determined after MPP has submitted a permit to the Environment Agency, due by the end of this month.