Plans for 200 homes at Amber Valley Rugby Club submitted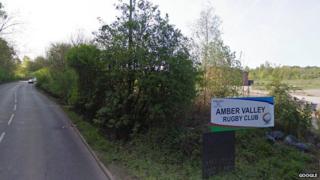 Plans for 200 homes on the site of a rugby club have been submitted.
Campaigners have raised concerns the land in Somercotes, Derbyshire, could be contaminated by nearby former landfills.
But developer Roger Carter said tests showed the land at Amber Valley Rugby Club, which is looking for a new location, was safe.
Amber Valley Borough Council said plans for the site will go on show to the public next week.
Kellie Judson said there was an unlicensed tip, which operated in the late 1960s, and a number of licensed landfills within 50 metres of the proposed homes.
"All landfills leach over time. I don't think they can guarantee the safety of people in the area in years to come," she said.
'Low grade'
Mr Carter, who represents a consortium of landowners, said he is not required to test adjacent land.
"There's no argument there isn't some contamination because there is," he said.
"The fact of matter is, though, in accordance with local guidelines, the contamination that is in that site is very low grade and needs to be left in situ and not handled."
Amber Valley council has organised two public exhibitions about the application, which its planning committee are due to vote on in December.