Bakewell gas works blamed for '60% drop in trade'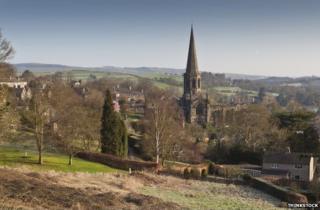 Traders in a popular Peak District town are blaming gas works for a 60% drop in trade.
Replacement gas mains work in Bakewell, which started last month, have caused tailbacks on all major routes in and out of the town.
Businesses have said the work should have been carried out in the winter when trade normally drops off.
The new gas mains will not have to be replaced for at least 80 years, the National Grid said.
James Cooper from Critchlow Butchers said the works around Bath Street in the centre of town have been "absolutely terrible".
"Trade is down by about 60% for us," he said.
Steven Craig from the Old Original Bakewell Pudding Shop said the town is usually busy with visitors until after Christmas.
"A much better alternative for us would be February or January when there's so little trade it's untrue," he said.
'Potential danger'
But Sarah Wilcox from the National Grid said if the pipes are not replaced they could become dangerous.
"If we don't carry out this work the concern is the pipes will continue to age and that could cause them to fracture which could cause gas escapes," she said.
"Not only is that a potential danger but in addition to that it could be hugely inconvenient because we would have to dig up the road with no notice at all."
The first phase of work started in mid-August in front of Bakewell CofE School and had to be completed before the end of the summer holidays, she said.
All of the work is due to finish in mid-October.