University of Derby halls of residence evacuated because of potential explosion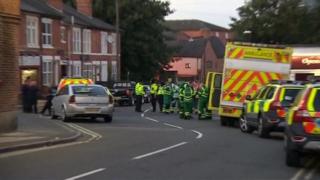 Hundreds of students have been forced to leave their halls of residence after a potentially explosive chemical was accidentally prepared nearby.
The area around Nuns Street, Derby, has been sealed off after the business reported the mistake at 17:30 BST.
Derbyshire police have erected a cordon and evacuated the area while they wait for the bomb squad to arrive.
The University of Derby's Nunnery Court halls of residence is one of the evacuated buildings.
Buildings in Mill Street, Bridge Street and Nuns Street have all been evacuated and residents sent to rest centres.
Chf Insp Steve Pont said: "There's a company on Nuns Street that used chemicals. They have mixed up chemicals in the wrong way and made a substance that may have explosive potential."
Nunnery Court has about 300 rooms.