Derbyshire County Council cuts mobile library services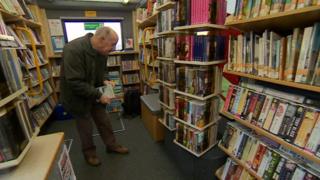 Derbyshire's mobile library fleet is to be cut from 10 vehicles to just two, in a moved that will save £530,000 year.
The council cabinet approved the cuts, which come into effect in January, as part of overall plans to trim the budget by £157m over four years.
The two remaining vehicles will serve 150 communities instead of 383.
Councillor Dave Allen said the aim was to "maintain a service to as many residents as we can while also making the necessary cuts".
"Sadly we have no choice but to review all our services but we are facing unprecedented budget cuts," Mr Allen said.
Library user Madge Goldby said: "I am 90 years old and I look forward to the books - to me they are a godsend."
Council leader Anne Western said: "Some of our services will remain but some will need to be run differently and I'm afraid some will have to stop. We don't want to cut any services but we have no choice."
The authority said it must save money because of cuts in government grants.