Derbyshire Police: 'Hundreds' more officers to be cut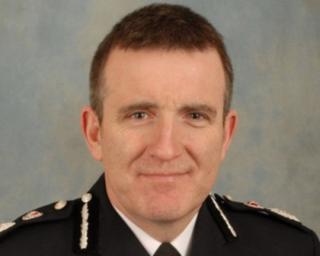 The chief constable of Derbyshire Police has said further budget cuts will see hundreds of officers and staff cut over the next four years.
Mick Creedon said police stations will be forced to close after an estimated loss of around £15m from next year's budget.
He said cuts on this scale have not been seen in his 35 years of service.
But he vowed the force will be able to respond to calls from the public 24 hours a day.
Recruitment freeze
The force has already lost more than 450 officers over the last four years and Mr Creedon said he expects a similar number to go by 2019.
"The level of cuts that the police service is dealing with is totally unprecedented in my 35 years of service," he said.
"It is impossible for this not to have an impact on the way we deliver policing to the one million people who live in Derbyshire."
Mr Creedon and Police and Crime Commissioner Alan Charles are considering the outcome of a review before the force's budget is set in January.
A police spokeswoman said the budget is estimated to be about £160m, rather than the £175m it had projected.
Most job cuts will come from voluntary redundancies, career moves and a recruitment freeze over five years, Mr Charles said.
"Whichever way you look at this, it will mean fewer people are employed with a consequential impact on the individuals involved and the local economy," he said.
Police buildings, including stations, will also close, the commissioner's office confirmed, but an "increase in new technology" will allow officers to work more "on the street", he said.
However, Mr Creedon said: "We will always be able to service emergency calls through the provision of reactive response officers across the entire county, 24 hours a day, seven days a week."