Amber Valley homes meeting cut short for 'work-life balance'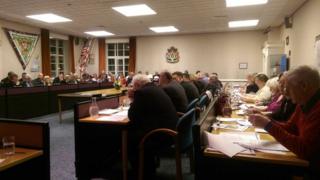 A meeting to decide whether thousands of homes should be built in Derbyshire was cut short so council staff could enjoy a "work-life balance".
Members of the public claimed the Amber Valley Borough Council meeting was "undemocratic" after the leading group introduced its proposals halfway through the meeting.
The council voted to add 10 sites to its plans for the next 14 years.
Labour's Chris Emmas-Williams said the debate was not rushed.
Earlier this year a government inspector told the council to add thousands more homes to its core strategy for building plans up until 2028.
On Wednesday night Labour voted to cut the number of sites added from 14 to 10, slicing 670 homes off a list of 2,860.
But their recommendations were introduced an hour into the meeting, after members of the public had spoken on the plans.
'Absolute joke'
BBC Radio Derby's Chris Doidge, who attended, said there followed just an hour of debate and the meeting was stopped at 21:30 BST, two-and-a-half hours after it started.
Helen Jackson, who spoke against sites in Belper, said: "We've had some sites taken out but it doesn't change that what's happening in there is undemocratic and it's an absolute joke.
"They spent an hour having us stand up and talk while they doodled on their pads.
"What was the point in turning up, doing the work we've done? What's the point of any of it?"
Mr Emmas-Williams, Labour's member for regeneration, said: "I don't believe it was a rush. Yes, it was limited to two-and-a-half hours, but don't forget over an hour of that was given to the public to hear their views."
"The mayor has looked at the work-life balance of officers that have been here all day that have now got to go home and be back at work tomorrow.
"He said right from day one when he became mayor that all meetings will finish at 9.30pm."