Cyclist son 'died in my arms' after crash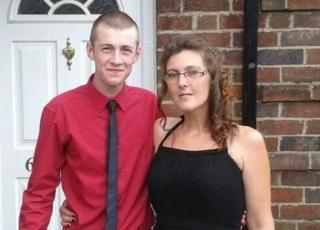 A mother has described how her teenage son died in her arms after he collided with a car while riding his bicycle.
Maxx Church, 18, died in hospital after the collision with the Audi A3 in Derby on Tuesday.
The driver failed to stop at the scene of the accident but has since been arrested on suspicion of causing death by dangerous driving.
Maxx's mother, Nikki Blount, thanked her son's friend Josh, who witnessed the accident and stayed with him.
"My heart goes out to his poor friend Josh who witnessed the whole thing and stayed with him until the ambulance came, then waited at the hospital for news," she said.
"I also want to thank all those of his friends who joined Josh to wait for news."
Police are appealing for information about the crash, which happened at the junction of Abbey Street and Mercian Way at about 18:00 GMT.
Ms Blount said her son "died in my arms" after being taken to the Royal Derby Hospital with serious injuries.
She said she had been overwhelmed by comforting messages since her son died.
"Reading messages is a welcome distraction to thinking about how I feel about losing my baby boy," she said.
"I am completely overwhelmed by the number of messages I have received, and the kindness of everyone's words is a huge comfort to me.
"There is no way I could reply to every single one, but I have read them all and appreciate every single word of comfort."
The driver arrested over the crash has been released on bail.