Five Ilkeston war graves rededicated in ceremony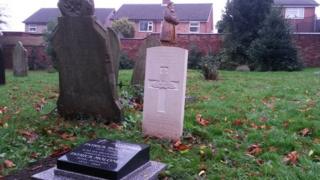 The headstones of five servicemen who died in World War One and World War Two are being rededicated at a cemetery in Derbyshire.
The gravestones, removed from Stanton Road Cemetery in Ilkeston in 1947, were replaced earlier this year by the Commonwealth War Graves Commission.
Councillor Mike Wallis of Erewash Borough Council said the ceremony would be "a poignant" tribute to the men.
The Stanton Road cemetery was used as a Victorian burial ground from 1864-1947.
John Hickman of the Friends of Stanton Road Cemetery said: "When we took over in 2000, it was a wilderness and we didn't know who was buried here and where they were buried … and now we have a record of everyone."
New headstones have been erected for Private William Clewes, 42, of the 16th Battalion, Sherwood Foresters who died in August 1915 and Private Paul Harrison, 26, of the 4th Battalion, Sherwood Foresters who died in November 1918.
The others remembered were: Gunner Albert Aram, 21, of the Royal Garrison Artillery who died in June 1919; Private Samuel Bonser, 33, of the 8th Hussars, who died in August 1918; and Gunner Patrick Moloney, 30, of the Royal Artillery who died in December 1945.