Children's tributes to 'hero' dad Kevin O'Connell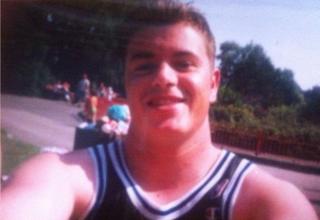 Three children who watched their "hero" father being hit and killed by a car have paid tribute to him.
Kevin O'Connell pulled over after seeing an altercation between two men on a Derby Street and was struck by a car as he tried to intervene.
The 33-year-old's funeral was held at Markeaton Crematorium earlier.
His two daughters, aged 14 and 11, and 16-year-old son, who were in the car, paid tribute to their father in a statement through their mother.
It said: "They want to say they love their dad, will miss him no matter what and they will live up to the way he would have wanted."
'Thinking of others'
Sgt Darren Muggleton, of Derbyshire Constabulary, said Mr O'Connell, of Wirksworth, "died a hero" while trying to help someone else.
The children's mother, Donna O'Connell, said thinking of other people in this way was typical of him.
"Thank you for 15 wonderful years and our three great children," she said in the statement.
"I will continue to watch over them as we both started many years ago.
"You were taken way too soon but as normal you were thinking of others."
A family announcement in the Derby Telegraph said Mr O'Connell was a "treasured son to Eileen and Kevin, loving brother to Dan and Kerry, devoted and much-loved fiance of Nicola, an amazing father and stepfather to nine beautiful children".
Mr O'Connell intervened after seeing two men fighting outside Car Parts Direct in Burton Road at about 12:55 BST on 25 October.
One of the men ran away, so Mr O'Connell followed him, which is when he was hit by the car.
Anyone who witnessed what happened is asked to contact Sgt Muggleton.