Online Predator Investigation Team catches attempted groomer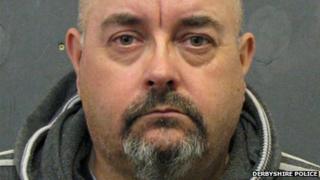 A man handed a three-year supervision order for trying to groom girls for sex was caught by an online vigilante group, it has emerged.
Peter Mitchell, from Blidworth, Nottinghamshire, was caught by the Online Predator Investigation Team (OPIT) attempting to meet two girls.
Police said vigilantes could jeopardise other investigations.
OPIT acknowledged it should not be trying to catch paedophiles but said it was good Mitchell had been caught.
The 50-year-old held sexually explicit conversations online with adults masquerading as children.
He went to Alvaston Park, in Derby, where he thought he was going to meet a girl but was instead filmed by members of OPIT.
He sped off in his car but within hours he arranged to meet another girl outside a supermarket in Alfreton in Derbyshire - but it was another fake identity set up by OPIT.
The information was passed on to Derbyshire Police and this week Mitchell was sentenced to a community order with supervision and placed on the sex offenders register for five years. He also has to complete a sex offenders treatment programme.
'So-called investigations'
Brendan Collis, founder of Derbyshire-based OPIT said: "We shouldn't be doing it. It is the job of somebody else but we need to protect our children.
"There's no victim here but there could have been. It's good that we have been able to stop him in his tracks."
Det Supt Andrew Stokes said he understood why people wanted to help but said there were "ways and means".
"The methods they actually use to do their so-called investigations can jeopardise ongoing live investigations. They could potentially be committing offences themselves," he added.
At his sentencing, Derby Crown Court was told Mitchell had made changes to his life so he would not pose a risk to children in future.