HMP Sudbury missing prisoners still on the run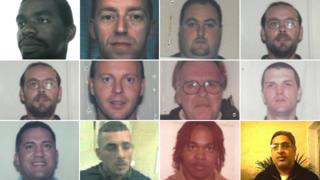 Detectives hunting on-the-run inmates have re-issued an appeal for help in finding the convicts.
Earlier this year, Derbyshire police took the unusual step of releasing pictures of all 24 inmates who were missing from HMP Sudbury open prison.
It included 12 men who absconded between 1992 and 2006 and another 12 who disappeared since 2007.
Since the appeal in August three people have been arrested and have been returned to prison, the force said.
The remaining 19 men, including all 12 who absconded between 1992 and 2006, are still at large.
Until the appeal in August no pictures of these men had been released.
Gary Leitch, Martin Casey and Adam Yaroo were arrested and returned to prison following the earlier appeal.