Derby Arena to host city's pantomime after 2014 show cancelled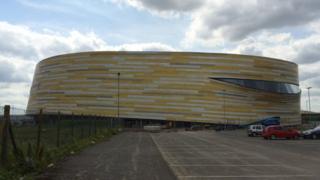 A Christmas pantomime, which was cancelled because of a venue fire, will be hosted in city's new velodrome next year, the council has said.
Derby's 2014 performance of Beauty and the Beast was cancelled after the Assembly Rooms closed in March.
Aladdin will be the first entertainment booking at Derby Arena, which is due to start hosting events next month.
A decision is due to be made on whether to refurbish or demolish the Assembly Rooms next year, the city council said.
Council officer Peter Ireson said Derby's pantomime was the most popular event in the city, with 50,000 people coming to see it each year.
"We've got over a decade's experience of producing fantastic pantomimes and I just know with that iconic new building we can do something really special for Derby," he said.
The 5,000-seater £28m venue is under construction at Pride Park. The Assembly Rooms has been closed since a large fire in the plant room on the roof of its car park nine months ago.