Moorways pool closure: Derby group 'deeply concerned'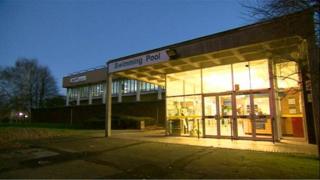 A plan to close a city swimming pool is "deeply concerning", a consultant body which advises the council has said.
Derby City Sport Forum has written to the city council to say closing Moorways Pool would have "severe repercussions" for swimming in the city
The Labour-run authority wants to shut the 33m pool in April and replace it with a 50m pool, which it said would be built by 2018.
The council is due to discuss the pool at a meeting later this month.
In a letter to councillors, the forum said it understood the financial pressure the authority was under but felt "to close Moorways Pool will have severe repercussions for swimming in Derby and the surrounding area for many years to come".
Vice-chairman Kevin Palmer said: "People don't use it just for leisure swimming or competitive training, there are 1,200 children a week who do swimming lessons at Moorways."
A petition to stop the closure of the pool, which was used by Commonwealth silver medallist Molly Renshaw for training, collected more than 4,000 signatures online and 1,000 on paper earlier this week, triggering a debate by the council later this month.
Closing Moorways would help towards the council saving £79m over three years, it said.
Derby City Sport Forum is an independent sports partnership made up of sports organisations from the city.