Derby City Council chief executive Adam Wilkinson leaves post early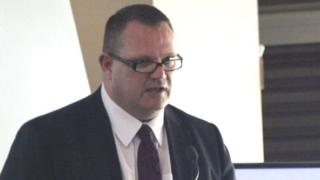 The chief executive of Derby City Council is to leave the authority.
Adam Wilkinson was due to be in the job until 2017, after a three-year contract extension last summer, but has taken voluntary redundancy.
He will receive £100,000 compensation and three months' pay, the city council said.
Mr Wilkinson believes it is the "right time to look for a new challenge, perhaps in a different sector", the authority said in a statement.
Council leader Ranjit Banwait said Mr Wilkinson's departure would help the council review its senior management structure.
The council said it needed to save £79m in three years.
As part of its 2015-16 budget consultation, it is proposing to reduce the number of senior management roles and "reconfigure responsibilities".
---
Chris Doidge, Radio Derby political reporter
This departure is not a surprise - I've been told by multiple sources at the council that he has been looking for alternative employment. It's been something of an open secret within the Council House.
He began a three-year contract extension in July 2014, so he was due to be there until 2017 with the option to stay until 2019. So something's changed.
Early on in his tenure it was clear that relations with the then-deputy opposition leader Ranjit Banwait were uncomfortable.
---
Mr Banwait said Mr Wilkinson would leave a "positive legacy of regeneration".
"He has recognised that his departure at this stage will enable the council to undertake a more fundamental review of its options for the future shape of its senior management structure that will be required to meet the challenges that lie ahead," he said.
Mr Wilkinson will be paid a total of £140,000 from the council when he leaves.
"These payments are well within the affordability test that the council applies when considering all voluntary redundancy applications," a council statement said.
Mr Wilkinson, who joined the city council in 2010 on a £160,000 salary, made headlines in 2013 when it was reported Kent County Council paid him £365,000 in severance.
He will leave his post on 31 January.