Al-Madinah free school taken out of special measures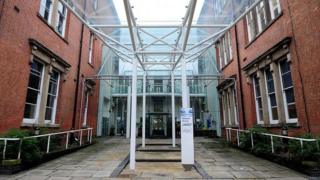 A Derby free school which was threatened with having its funding terminated has been taken out of special measures, it has said.
Al-Madinah, a Muslim faith school, had faced allegations of discrimination against female teachers and pupils and poor educational standards.
In October 2013, Ofsted deemed it chaotic, dysfunctional and inadequate.
But an inspection in December 2014 found steady progress had been made and rated it as "requiring improvement".
Opened in September 2012, Al-Madinah school claimed to be the first Muslim ethos, all-through (covering reception, primary and secondary) free school in the country.
Steady improvement
Less than a year later the Education Funding Agency launched an investigation into alleged financial irregularities at the school.
Allegations then emerged from former staff over dress codes, girls being forced to sit at the back of classes and an over-emphasis on Islamic studies, to the detriment of national curriculum subjects.
Then Education Minister Lord Nash laid out 17 areas of concern it had to address or risk having government funding withdrawn.
After the Ofsted report a new trust was formed to run the school and the secondary part was closed.
But during 2014, regular inspections of its primary school on Nelson Street found steady improvement.
Now school authorities have confirmed inspectors are to raise its status.
Head teacher Suzanne Sutherland said: "I am confident that we have the drive and capacity to continue to move forward and make further progress.
"I wish to thank pupils, staff and the governors who have worked tremendously hard and the families who have supported us over the last year."
The full Ofsted report will be published on Thursday.