Ofsted says Al-Madinah free school still needs improvement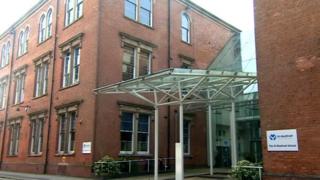 A Derby free school, which has been taken out of special measures, still "requires improvement", say inspectors.
Al-Madinah, a Muslim faith school, faced allegations of discrimination against female teachers and pupils and poor educational standards.
Ofsted said the primary school was "chaotic" and "dysfunctional" and it was placed into special measures. The secondary school was closed in August.
A new report said improvements were being made but more could be done.
Following an inspection in December, Ofsted said the school had moved from an "inadequate" rating to "requires improvement".
'Changes being made'
Inspectors said the standards of pupils' learning in English and maths was below those expected for their age, the quality of teaching was inconsistent and there was still a need to strengthen leadership at the school.
However, they said they found strengths in the school's support for disabled pupils and those with special needs and the behaviour and conduct of pupils was "good".
They said pupils, who are mainly of Pakistani heritage, also had a good understanding of other faiths and cultures.
Al-Madinah school opened in September 2012 claiming to be the first Muslim ethos, all-through (covering reception, primary and secondary) free school in the country.
Less than a year later, the Education Funding Agency began an investigation into alleged financial irregularities at the school.
Allegations then emerged over dress codes for teachers, girls being forced to sit at the back of classes and an over-emphasis on Islamic studies over other national curriculum subjects.
Education Minister Lord Nash raised concerns and threatened the school with losing its government funding if improvements were not made.
Following the latest report, head teacher Suzanne Sutherland said: "I am confident we have the drive and capacity to continue to move forward and make further progress."
A full Ofsted inspection will be carried out within the next two years.