Derby Royal Infirmary site: Demolition work begins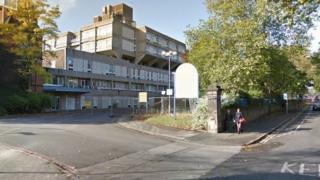 Demolition work has begun on a former hospital with links to Florence Nightingale.
The Derby Royal Infirmary site, which has been derelict for five years, was one of the region's oldest hospitals.
The famous nurse helped with its development in the 19th Century and is commemorated by a statue on the site, which will remain.
The former hospital, which has been described as an eyesore, will be redeveloped for housing.
Derrick Conway, from Derby Hospitals NHS Trust, said the demolition was the final phase in preparing the site.
He said a lot of work had already been done, including clearing asbestos and salvaging equipment from the buildings.
The work is due to be completed by October.