Derbyshire Police to close 58 buildings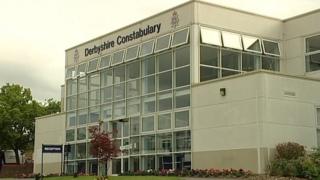 Derbyshire Police is to close 58 police buildings, including stations and offices, in its latest round of cuts.
The number of officers will be reduced by 64 over the next year with more reductions in 2016 and 2017.
Police and crime commissioner Alan Charles warned that some types of crime will "in all likelihood" increase.
Chief Constable Mick Creedon said the force had to prioritise officers over buildings.
'Public concern'
A budget report by the commissioner said a total of 58 buildings will close including police stations in Bakewell, Heanor, Long Eaton and the Derby Assembly Rooms enquiry office.
Mr Creedon said most of the buildings being closed have few officers based in them and are not visited regularly by members of the public.
"This does not mean that the public won't be concerned about their closure but we have had to prioritise the people who deliver a policing service over the buildings that they operate from," he said.
There will be less money for community safety, communication, the dog section, and roads policing, among other departments.
There have been cuts to senior management, a reduction in safer neighbourhood officers and PCSOs and the Ilkeston and Long Eaton sections are to merge.
The report said 16 officers will be recruited this year but 80 officers are expected to leave the force, meaning the number will fall by 64.
'Debilitating'
The cuts are in response to the government asking forces across the country to make savings.
PCC Mr Charles, said they were "debilitating".
"We simply cannot maintain this position forever and while some types of crime have fallen, the reality is that digital and other types of modern crime are in all likelihood increasing."
The report said £20.1m had been cut from the force since 2010.
In total, it has lost about 5% of its budget but will make some money back by increasing its council tax precept by 2%.