Second jury for Derbyshire pub rape trial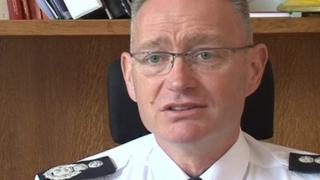 A second jury has been hearing evidence in the case of a chief fire officer accused of raping a woman in a Derbyshire pub in 2006.
The trial of Sean Frayne, 48, who denies the charge, was delayed after the first jury was discharged after a juror suffered a bereavement.
Derby Crown Court heard that Mr Frayne raped the woman while his wife was in another room at the pub.
Mr Frayne was suspended from Derbyshire Fire and Rescue Service in 2013.
'Sordid incident'
Prosecutor Martin Hurst said the jury would have to decide whether the woman was raped, or if the sex was consensual and she "effectively forced herself" upon him.
Mr Hurst said Mr Frayne and his wife went to talk to the alleged victim in 2013 after receiving an anonymous letter mentioning her name and branding him a rapist.
The letter, sent by a friend of the woman, suggested she might "avoid publicity" for a substantial out-of-court payment.
The court was told that the woman knew nothing of her friend's attempts to "achieve some form of informal justice" on her behalf by sending the letter.
Mr Frayne, of Fixby, Huddersfield, and his wife visited the woman to ask her questions about the letter.
Mr Hurst told the jury: "Mr Frayne is essentially going to say that she is motivated by money, that she wants compensation.
"If that's right, why did she wait for seven years?
"The victim never wanted to tell anybody about this sordid incident and you may well think at the end of the evidence that if it hadn't been for [the victim's friend's] curious intervention, this may have remained a secret to this very day."
The trial continues.