Rape-accused Derbyshire fire chief sent 'blackmail' letters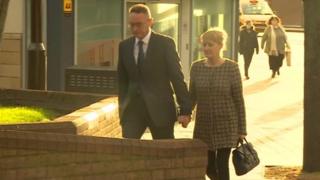 A woman who claims she was raped by Derbyshire's chief fire officer has denied she and a friend tried to blackmail him.
Sean Frayne, 48, denies the attack, alleged to have taken place in a Derbyshire pub in 2006, claiming the sex was consensual.
Derby Crown Court heard letters were sent to Mr Frayne in 2013 asking for money to avoid publicity.
The alleged victim has denied knowledge of the letters.
Defending Mr Frayne, Laura Pitman, accused the woman of turning a "one night stand" into a rape.
The woman, who cannot be identified, denied the suggestion, saying: "No. It happened in 2006. I wouldn't keep it in my head if it was a one night thing, would I?"
The jury was told that, after they received an anonymous letter, Mr Frayne, of Fixby, Huddersfield, and his wife visited the accuser's home in October 2013 to ask what she knew about it.
'Absolutely livid'
The meeting was said to be "amicable" but the Fraynes received a second letter in November claiming they had "intimidated her".
Ms Pitman suggested the woman had panicked that she would be arrested over the letters and so made a complaint of rape to police in December.
She denied this and told the court she knew nothing about the letters.
Mr Frayne was suspended from Derbyshire Fire and Rescue Service after the allegations were made in 2013.
The woman had confided in a friend at a wedding in August 2013 about the alleged attack, the court heard. He wrote both letters without her knowledge, she claimed.
The first she had heard about the first letter was when the Fraynes came to her house, she said.
"I was absolutely livid, I was frightened, I didn't know what to do," she said.
The trial continues.