Derby Asda van crashes into bus stop injuring three people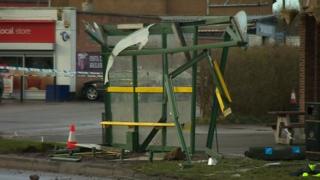 A supermarket delivery van ploughed into a bus stop injuring three people, one of them seriously.
The Asda van crashed at about 10:00 GMT in Sinfin Road, Derby while three passengers were waiting for a bus.
One woman was seriously hurt and taken to the Queen's Medical Centre, Nottingham, where she remains in intensive care, while the others suffered minor injuries, police said.
Officers said it was not yet clear what caused the crash.
Sgt Steve Hughes, from Derbyshire Police, said: "The Asda van... turned left into Sinfin Lane and for reasons that we are not too sure about... collided with the bus stop.
"Unfortunately, there were three people sat at the bus stop at the time. Two have been taken to The Royal Derby Hospital; they are not too badly injured.
"There's one who is quite serious and she has been taken to Queen's Medical Centre. It will be some time before we know the full extent of her injuries."
The driver of the van, who is not thought to have been injured, has been interviewed by police.
The road was closed until about 13:40.