Derby velodrome expected to make £2.1m loss over three years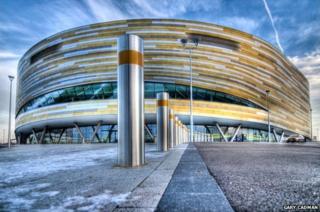 Derby's new £31m velodrome is expected to make a loss of about £2m over the next three years, according to the city council's financial projections.
The Derby Arena, built against a backdrop of council cuts, hosts big cycling events and concerts.
Some thought the venue would pay for itself, but the Labour-led authority now says it was always the case it would initially require subsidies.
The Conservatives said this was "not acceptable" and it should break even.
Matthew Holmes, deputy leader of the Conservative group, said: "With cuts being made to local services by the council, it's not acceptable that millions of pounds could be lost subsidising a venue that should be capable of, at the very least, breaking even."
The local authority said there was a funding gap of £2.1m.
Alison Martin, cabinet member for culture and leisure, said: "The business plan for the arena was put forward some years ago and the plan was always that it would require some subsidy."
When Councillor Martin Repton, who has overseen the £30.8m project, was asked about the venue earlier in January, he told the BBC: "In terms of the business case for this building, in terms of the sporting facilities, the facilities for pantomimes, comedy shows, and all the income coming in from the gym facilities, we're confident it will pay for itself."