Derbyshire pensioner Doug Yeomans receives tax bill of £4.7bn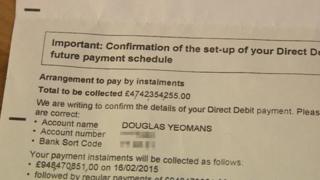 A pensioner from Derbyshire was shocked to receive a tax bill for £4.7bn.
Doug Yeomans was sent a letter from HM Revenue and Customs informing him £948m would be taken by direct debit every month to clear the debt.
The 78-year-old, from Shardlow near Derby, was told the bill "might" have been a mistake when he rang up to complain.
A spokesman for HMRC said it did not comment on individual cases, but added: "We are very sorry about our error."
Mr Yeomans said: "I wasn't surprised to get the bill but I was amazed at the price.
"When I saw the amount, that's when alarm bells started to ring."