Derbyshire fire chief Sean Frayne cleared of 2006 rape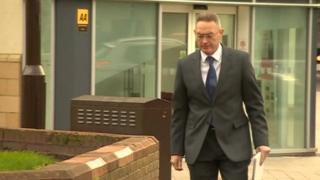 Derbyshire's chief fire officer has been found not guilty of raping a woman in 2006.
Sean Frayne denied the attack had taken place in a Derbyshire pub while his wife was in another room.
The 48-year-old of Fixby, Huddersfield, said he had consensual sex with the woman, who made a complaint to police in 2013.
The jury of seven women and five men at Derby Crown Court took less than 15 minutes to reach a verdict.
After the verdict Mr Frayne was tearful outside court and hugged his wife but declined to comment.
'Difficult year'
Derbyshire Fire and Rescue Authority said its members were meeting "as a matter of urgency".
In a statement, it said it "acknowledges that the last year must have been difficult for everyone involved".
It said interim arrangements would remain in place for the leadership of the fire service until further notice.
Derbyshire's deputy chief fire officer Andy Waldie and deputy chief executive Joy Smith covered Mr Frayne's responsibilities after he was suspended following his arrest in 2013.
Ms Smith said the issue of Mr Frayne's possible return to work would be discussed at the authority's meeting on Friday.
"There's been an awful lot of information that's come out over the course of the week that is there for us all to absorb," she said.
"But in terms of any impact that may have that is a matter for the fire and rescue authority."
'Wrecked my life'
During the trial, which lasted just over a week, Mr Frayne told the court he had been drinking in the pub with his wife on the night of the alleged attack in 2006.
He followed the woman into another room where they had consensual sex, he said. Afterwards the woman told him "we shouldn't have done that" while his wife was in the building.
In 2013 he received two letters, in which he was called a rapist and was asked for an out-of-court settlement. He thought he was being blackmailed, he said.
The letters were sent by a friend of the woman who she said she had confided in about the attack. The writer told the jury he had not tried to extort money out of Mr Frayne.
He became tearful in court when he described the moment he was arrested in 2013, saying it had "wrecked my life".