Derbyshire fire chief Sean Frayne's suspension lifted after trial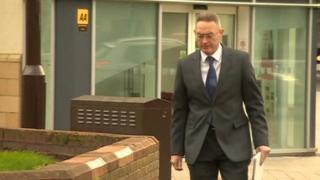 The suspension of Derbyshire's chief fire officer has been lifted after he was acquitted of raping a woman in 2006.
Sean Frayne, of Fixby, Huddersfield, was suspended in 2013 following an allegation of rape against him.
Derbyshire Fire & Rescue Authority ended his suspension with "immediate effect" but it is unclear whether he will return to his post.
Mr Frayne, 48, was cleared by a jury at Derby Crown Court on Wednesday.
'Wrecked my life'
A statement from the authority said: "The interim management arrangements that have been in place since March 2014 to ensure the continued delivery of an effective emergency service will remain in place until the fire authority and Mr Frayne have agreed the next course of action."
During the trial, Mr Frayne told the court he had been drinking in the pub with his wife on the night of the alleged attack.
He said he followed the woman into another room where they had consensual sex.
In 2013, he received two letters, in which he was called a rapist and was asked for an out-of-court settlement. He said he thought he was being blackmailed.
Mr Frayne became tearful in court when he described the moment he was arrested in 2013, saying it had "wrecked my life".
The jury took less than 15 minutes to reach a not guilty verdict.