Probe at Derby deaf school after 'risk of grooming' claim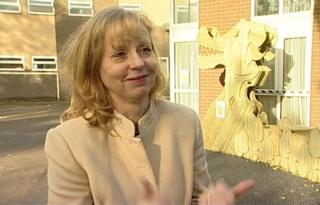 An investigation is under way at a school where Ofsted said pupils were placed at risk of "potential grooming and child sexual exploitation".
An Ofsted report said Cheryll Ford, principal of the Royal School for the Deaf Derby, had failed to respond to concerns her staff had raised.
Ms Ford was the residential school's safeguarding officer.
She has been suspended pending the outcome of the investigation, which is being carried out by a solicitor.
Both the school and Ofsted said they could not confirm whether or not any children had been harmed.
'School is safe now'
However, a spokesperson for Derbyshire Constabulary said there were no criminal investigations relating to the school.
Rosemary Guy, chair of governors at the school, said "robust action" had already been taken to address the concerns raised in the Ofsted report.
Three members of staff have been appointed to work as a safeguarding team.
"I want to reassure parents that the school is safe now," said Dr Guy.
---
What should a designated safeguarding officer do?
A designated safeguarding officer is a person responsible for ensuring a school's safeguarding polices are applied.
They are the first point of contact for all staff and volunteers to go to for advice if they are concerned about a child.
All schools, regardless of whether they are residential or a day school, need to have a designated safeguarding officer.
Source: Ofsted
---
An acting principal has been appointed while Ms Ford is suspended.
The Ofsted report said school staff lacked confidence in Ms Ford's "ability to take robust action to safeguard pupils", and there had been a "number of whistle blowing incidents".
'Horrified and very saddened'
The inspector said she had not shared concerns raised about child protection or safeguarding, either within the school or with "partner safeguarding agencies".
"This failure to respond to staff concerns directly impacted upon pupils as they were placed at risk of potential grooming and child sexual exploitation," the report said.
The school was rated "inadequate" in all categories following the social care inspection in December.
Dr Guy said she was "horrified" and "very saddened" to read the report.