Buxton Museum and Art Gallery starts on smartphone app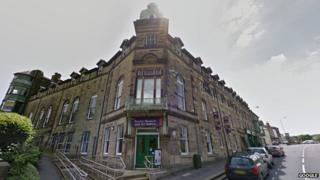 Work is due to begin on providing digital access to a museum's collection.
Smartphone apps are being created by Buxton Museum and Art Gallery, in Derbyshire, which landed an £869,000 grant from the Heritage Lottery Fund.
The apps will allow users to view the museum's information about county landmarks while at the sites.
The grant will also be used to improve the museum and create a website.
The apps, called Pocket Wonders, will be designed as digital tours around Derbyshire, particularly the Peak District, giving users access to the museum's information while out and about.
Meanwhile, an online collection called Armchair Wonders, will be created so the collection can be viewed online from anywhere in the world.
And the main gallery - Wonders of the Peak - will be redeveloped.
Dave Allen, Derbyshire County Council cabinet member for health and communities, said: "The use of new technology will mean visitors can get information from new touch screens in the museum as well as via their own smart phones and tablets for a more interactive experience."
---
Seven Wonders of the Peak District
Mam Tor (pictured) - translates as the Shivering Mountain
Peak Cavern, Castleton - also known as the Devil's Arse - remains of an old village can be seen inside the entrance
Poole's Hole, Buxton - a natural limestone cave with crystal stalactites and stalagmites formed over millions of years
Eldon Hole - legend has it that the hole was bottomless - it is actually about 60 metres deep
St Anne's Well, Buxton - people have drunk water from the spring for centuries, many hoping it would cure their ailments
The ebbing and flowing well, Tideswell - the Peak District has two such wells - springs famous for rising and flowing without any set pattern. One at Barmoor Clough and one in a private garden in Tideswell
Peak Forest village - once the centre of the royal forest - a 40 sq mile (104 sq km) hunting reserve used by the nobility
---
Work is due to start on 1 March and be completed by the museum's 175th anniversary in December 2017.