Peregrine falcon found at wildlife trust HQ shot dead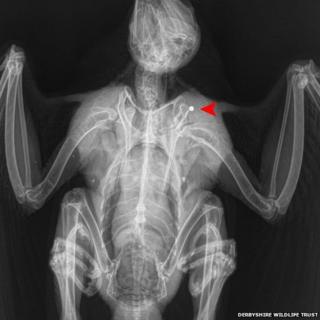 A peregrine falcon found dead at a wildlife charity's headquarters was shot, tests have revealed.
The bird, part of a nesting pair on the roof of a 100-year-old former mill in Belper, Derbyshire, was found by a photographer in January.
After an autopsy, Derbyshire Wildlife Trust said this week it believed the male falcon was killed by a piece of shot found lodged in its shoulder.
Police said they were investigating the "cruel and deliberate act".
Tim Birch from the trust said birdwatchers from across the region have flocked to Belper to see the peregrines since they started nesting on top of the mill in 2012.
"To have a wildlife crime happening right on our doorstep is both alarming and upsetting," he said.
Tests found metal, thought to be from a shotgun pellet, was a "strong contributor" to the bird's death.
It was unclear whether the falcon was shot near the mill, or if it died upon its return after being attacked further afield, Mr Birch said.
Further ballistics tests will be carried out on the suspected pellet, he said.
Why kill a falcon?
The RSPB said over the past six years, at least 54 peregrines have been illegally killed in the UK, including by poisoning and shooting
"Rogue elements" in the pigeon racing and game shooting communities have been known to target birds of prey, the charity said
Mr Birch said the birds are still largely absent from parts of the nearby Peak District because of ongoing illegal activity
The trust, which is based at the mill, said it was concerned for the safety of another male falcon which had "flown in" from Dorset and was mating with the female.
The RSPB has offered a £1,000 reward for information.