Leo the Labrador saves owner's life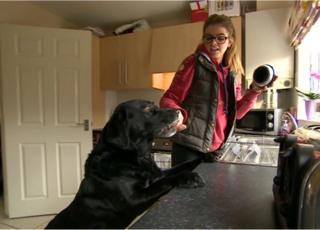 A dog has been credited with saving the life of its owner after her heart stopped beating during her sleep.
Joanna Mellor was "clinically dead", according to a paramedic, while her boyfriend Andrew Rayment lay sleeping next to her unaware.
But Leo the Labrador woke up Mr Rayment, who dialled 999 and gave her CPR until an ambulance got to their home in Ilkeston, Derbyshire.
Paramedic Glenn Radford said she would have died without her pet's help.
"She was clinically dead, so she wasn't breathing, her heart wasn't beating, so we were having to pump her heart for her via CPR," he said.
Her heart had stopped beating from a previously undiagnosed condition, and it needed shocking eight times.
The 23-year-old has now made a full recovery since she almost died in January.
"Leo was nudging Andrew in bed and Andrew was just like 'get back in bed, go back to sleep', and as Leo did I think that's when he realised my breathing," said Miss Mellor.
"If Andrew hadn't have done the CPR they wouldn't have been able to do anything for me."
She has since had an operation to correct her heart defect.