Derbyshire badgers 'hit with spades' in sett attacks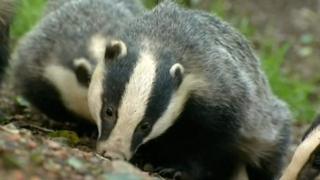 Badgers were struck with spades during attacks on setts in the Peak District, a conservation group has claimed.
A mutilated badger was found close to one of five setts the High Peak Badger Group said had been interfered with in recent weeks near Chapel-en-le-Frith.
Police, who are investigating, said such crimes are often linked to machinery theft and sheep rustling.
The national Badger Trust said incidents like these have risen since the introduction of the badger cull.
The Derbyshire group provided a picture of the mutilated badger but the BBC has decided not to publish it.
Chairman Brian Ashton said the animals can be killed at the scene or taken away for baiting.
He called the attacks "terrible, inhumane crimes" in which dogs are put in holes then traced using dog collar locators before the trapped animals are dug out.
"The badgers are then brutalised by dogs and, judging by the evidence we have found, by men assaulting them with spades or taken away for sport," he said.
The group of volunteers has increased monitoring of "vulnerable locations" in the Peak District, as have Derbyshire Police.
A force spokesman said: "The kind of individuals who commit these horrific crimes are by nature often aggressive and violent people and may well be involved in various other crimes and they should therefore never be approached directly."
A pilot badger cull began in 2013 in the South West which aims to kill 70% of the population.
Derbyshire Wildlife Trust has been vaccinating badgers in a bid to prevent the need for culling.
Dominic Dyer, of the Badger Trust, said: "It appears to have a given the green light to criminals who see these animals as fair game for their 'sport'."