Derbyshire County Cricket Club receives £400,000 grant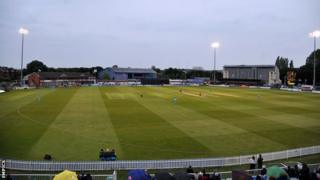 Derbyshire County Cricket Club has been handed more than £400,000 as part of a scheme to redevelop the ground and create jobs.
The Derby Enterprise Growth Fund award will allow the club to create at least 30 new jobs as the County Ground grows, officials said.
It follows a £2.4m investment by the city council to fund a major redevelopment of the facilities.
The club said the money would be used to create "real jobs".
World Cup hopes
Club chairman Chris Grant said: "We are using the money to upgrade the facilities and employing local people to do that.
"Once the facilities are up to scratch, the money will be used to employ people to work in those facilities."
Mr Grant said the investment was vital in order to compete with major venues and provide long-term employment.
The club hopes to host an ICC Women's Cricket World Cup match in 2017, and be considered as a venue for the men's competition in 2019.
To date, the club has spent £1m refurbishing the pavilion, conference and events facilities, with phase two of the scheme due to start in September.
This will include a new media centre, corporate boxes and upgrades to the floodlights.
The £412,500 award was made to support the growth of the club as a year-round venue for sport, culture and events.