Belper former Thorntons factory homes plan approved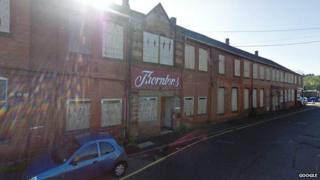 A plan to build more than 100 homes on a former chocolate factory site has been approved.
A fire destroyed much of the Thorntons factory in Belper, Derbyshire, in 2013.
Amber Valley Borough Council approved the plan by Spenhill Developments to demolish the Derwent Street factory and build 107 homes.
A separate application by Derbyshire County Council has been submitted for a library and extra-care housing on part of the site.
Tesco shelved plans to build a supermarket there in 2013.