Derbyshire nesting sites to be cleared using landfill cash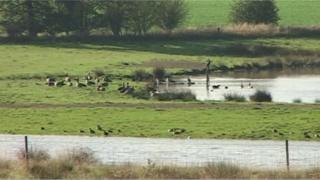 Money from taxes on landfill sites is set to help restore nesting sites for birds.
Derbyshire Wildlife Trust has received £7,920 through the Landfill Communities Fund (LCF) to clear weeds from gravel strips at Carr Vale Nature Reserve.
The nesting sites have deteriorated since they were built in 1998 and are no longer suitable habitats for birds, including little ringed plovers, lapwings and oystercatchers.
The money came from waste firm Viridor.
Wildlife trust reserves officer Sam Willis said the nesting areas at the reserve, near Bolsover, were overgrown with weeds.
"Little ringed plovers lay tiny eggs that are camouflaged in gravel on the ground. The birds need the surrounding area to be open so they can see predators whilst they nest," he said.
Work to restore the site will involve laying a mat to protect the site from weeds and then a gravel layer on top.
The project will also include providing new muddy areas for waders to feed.
The trust will start work in August or September, when this year's breeding season has finished and just before the winter migrant birds come back.
The LCF is a government tax credit scheme which has seen landfill operators contribute £1.2bn for community projects since 1996.