Row in Ripley over 'secret' car park sale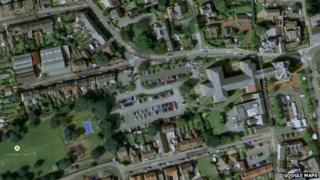 A "secret" decision by a borough council to sell a town car park for development has been criticised as "very poor" by opposition parties.
The details of the move by Labour-led Amber Valley Borough Council to sell the car park in Ripley have been kept confidential.
Conservative councillor Alan Cox said the decision should have been made in public.
A Labour councillor said the move was not final and would return to cabinet.
Labour councillor, Chris Emmas-Williams, said: "It's talking about monetary value.
"The public should be aware when all of the proper discussions have taken place. A lot of work's got to be done before it can go any further. It's a toe in the water."
The decision to sell the Cromford Road Car Park was made on 8 April, behind closed doors, at a cabinet meeting.
The price of the sale and the buyer have not yet been revealed but BBC News has been told the buyer was a major supermarket.
'Public domain'
Steve Freeborn, Labour leader of Ripley Town Council, said: "Unfortunately all the information about it is regarded as confidential.
He said he was "very surprised" by the move to keep the details confidential as "the more people that knew it was for sale...then the better the price".
Mr Cox said: "If we had been control we would have put a public report out and left a few items of confidentiality as a confidential appendix.
"The rest (of the report) should be in the public domain."
He added shoppers would have fewer spaces to park in the town if the 190-space car park was developed.
Conservative councillors have asked for the decision to be reviewed by a committee on 22 April.