'Gory' lamb poster warning after Duffield dog attacks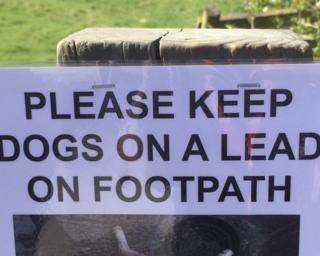 A farmer is using posters showing a mutilated lamb to convince dog walkers to keep their pets under control after three lambs were killed.
Steve Croot said the lambs were killed by dogs at his farm in Duffield, Derbyshire in the past week.
The Croots Farm owner said he hoped the posters, which he described as "gory", would make dog owners think twice about letting pets off the lead.
He said finding the mutilated lambs was heartbreaking.
The lambs were found in a field which has a public footpath running through it, Mr Croot said.
He said his vet suggested the posters would be a good way of raising awareness.
"It's a bit gory and graphic, but hopefully it will make people think," he said.
"Most people look after their dogs - I'm a dog lover myself - with two of my own."
"But, carting dead lambs off is not good," he added.
Police have also issued warnings about sheep worrying in other parts of Derbyshire.
Officers have received several complaints from other farmers near Ashbourne about people not having their pets under control, resulting in at least one lamb being killed.
Earlier this year, seven sheep were killed during an attack in Lincolnshire, with four being euthanized because they were beyond treatment.
The National Farmers Union in the East Midlands said sheep worrying was becoming more frequent.
---
Sheep worrying
It is an offence to allow a dog to worry sheep, which includes attacking or chasing them
Chasing by dogs can do serious damage to sheep, even if the dog does not catch them
The stress of worrying by dogs can cause sheep to die and pregnant ewes to miscarry their lambs
Source: National Sheep Association
---