Derby legal high confusion prompts police warning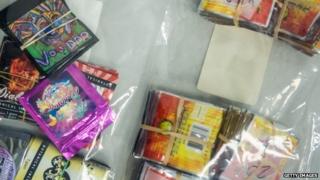 The discovery in Derbyshire of a substance linked to two people's deaths in Germany has prompted a police warning over confusion surrounding legal highs.
A packet seized in Derby contained a banned compound known as MDMB-CHMICA.
The individual was in possession of Black Mamba, a synthetic cannibinoid, which is often mistaken as being a legal high despite being banned.
Officers said users are taking a gamble with their health over the drugs.
As well as the deaths in Germany last year, three other people needed hospital treatment.
Derbyshire Police have warned it is not always clear what is in the packets even if it is labelled as being legal.
According to the government funded Talk to Frank website, products named Black Mamba are sometimes sold as legal herbal smoking mixtures and contain no synthetic cannibinoids at all.
Steve Holme, of Derbyshire Constabulary, said: "The brand name Black Mamba is particularly confusing.
"The original contents of this brand were made a controlled drug in 2012 but not all items sold as Black Mamba, or any other brand name, will contain the same substances."