Bradley church stripped of £20,000 of lead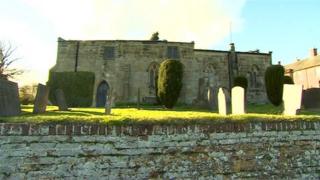 A village church has been stripped of lead worth about £20,000, police have said.
Thieves climbed on to the roof of All Saints Church in Bradley, near Ashbourne, Derbyshire, to steal half of the lead from the building.
Rev Philip Michell said most of the cost would fall on the congregation, who are mostly retired villagers.
Police believe the theft happened between 17:15 on Tuesday and 08:30 BST on Wednesday.
Rev Michell said: "People work hard to keep the building in really good condition. We have regular services. There's a great community but the cost will fall, the majority of it, on the people who worship here."