Derbyshire County Cricket Club submits sculpture plans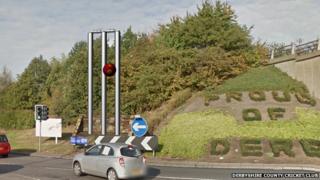 Derbyshire County Cricket Club has submitted plans to erect a wickets sculpture on a busy roundabout.
The 6m (20ft) structure would be located on the Pentagon roundabout and greet motorists as they enter the city.
Chief executive Simon Storey said the stumps would show visitors how proud the county was of its cricketing heritage.
If approved, he said the sculpture would be paid for by local businesses and private donors.
Mr Storey said: "There has been a lot of work preparing the application to get us to this stage, but it's an exciting project for the city and the cricket club."
He said the sculpture idea was in support of Derby's bid to host matches in the Women's World Cup in 2017.
The club has until later this month to submit its bid.
The city council is expected to give its decision on the sculpture plans in June.
Mr Storey said the club also planned to spend £3.4m improving the club's County Ground before 2017.
This would be funded by grants from the England and Wales Cricket Board and Derby Enterprise Growth Fund, as well as loan funding from the city council, he added.