Derbyshire churches targeted by thieves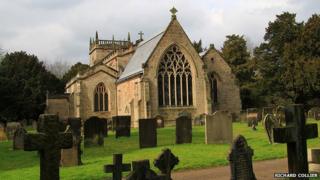 Two village churches in Derbyshire have been targeted by thieves with about £20,000 worth of lead taken from one.
On Wednesday, lead from the south aisle of the roof was stolen from All Saints Church in Sudbury, near Ashbourne, Derbyshire.
And an Elizabethan window was destroyed at St Andrew's in Cubley on Friday before the thieves were disturbed.
On 29 April, All Saints Church in nearby Bradley also had £20,000 worth of lead stolen from its roof.
Reverend John Vickerstaff, said residents now feared further incidents.
"I feel for the people who live in the parish and look after the church, people who worship there.
"They are feeling incredibly angry and vulnerable. Everybody's wondering who's going to be next."
The church had installed bollards to deter vehicles from approaching the church at night following similar thefts.
However, Rev Vickerstaff said in the latest incident the thieves had appeared to park nearby and carry the heavy lead to the vehicle.
He said the diocese was now looking to replace the roof with a material less desirable to thieves.