'Hero' father Kevin O'Connell's death was 'accidental'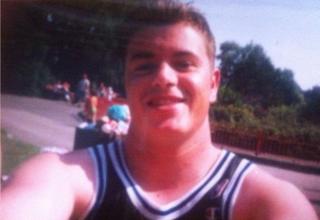 A Derbyshire man died after stepping into the path of a car as he tried to intervene in a street fight, an inquest has heard.
Kevin O'Connell, 33, from Wirksworth died of his injuries after intervening in a disturbance in Burton Road, Derby, in October 2014.
The inquest heard that Mr O'Connell did not usually tie up his shoelaces and that may have caused him to trip.
Derbyshire deputy coroner Louise Pinder concluded his death was accidental.
Children's tributes
Mr O'Connell was driving in his car with his three children when he pulled over after seeing an altercation on the street between two men.
One of the men ran off and Mr O'Connell stumbled as he pursued him.
He was hit by a car and died later of head injuries.
The inquest heard that Mr O'Connell had seen the altercation between a disabled man with cerebral palsy, Darren Capewell, and a second man, Janos Weaver.
Mr Capewell was later given a 16-week sentence after pleading guilty to public order offences. Mr Werner is due to go on trial in June.
After his death, Mr O'Connell's two daughters, aged 14 and 11, and 16-year-old son, paid tribute to their father, saying they would "live up to the way he would have wanted."
Sgt Darren Muggleton of Derbyshire Police said Mr O'Connell died a hero while trying to help someone else.