Chesterfield home residents moved after care worries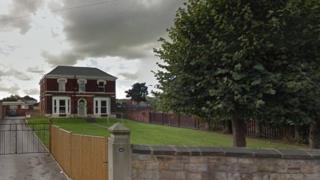 Five private care home residents have been moved after worries were raised about their care.
The residents from St Joseph's Specialist Care Home on Newbold Road in Chesterfield were moved after "a number of concerns" were highlighted by the Care Quality Commission.
The CQC did not give details of its concerns but said a report would be published in late June.
The owners of the home, Aspire Care Group, were not available for comment.
Warnings issued
A CQC spokesman said: "CQC has been closely monitoring the situation at St Joseph's care home in Derbyshire, which has included a number of unannounced inspections, and the issuing of warning notices to the provider."
A Derbyshire County Council spokesman said: "Our staff and health colleagues have been working hard to identify suitable alternative homes for the five residents as they needed to be moved at short notice.
"We were able to move people safely and smoothly to new homes. We continue to liaise with the CQC and the best interests of the individuals are paramount."
The Aspire Care website said the home cares for "adults with learning disabilities, mental health conditions or physical disabilities and sensory impairments who may exhibit challenging behaviour".
The CQC has not closed the home, which is run privately, but is "in the process of deciding what will happen regarding the service's registration", the spokesman said.