'Panic' over Real Madrid match against Belper Town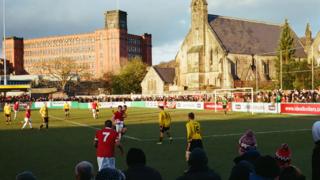 A non-league football club has been left red faced after an April Fools' Day joke about playing Real Madrid went wrong.
Belper Town FC thought everyone would realise they were joking when they advertised their next match as being against the Spanish giants.
But they received more than a dozen calls from people wanting tickets.
Even the club's caterer was taken in and started panicking about what to cook the fictitious opponents.
"I did have a bit of a panic myself because I thought 'blimey what can I feed these lads?" said Diane Collins.
"They are all into carbs, protein and veg, not like pie and chips that our footballers get."
After being told it was a joke, she said: "I was disappointed I wasn't going to see Ronaldo but never mind."
Belper Town FC play in the North Premier League Division One South - the eighth tier of the English football pyramid.
One of the club's directors, Mike Matthews, said: "Our view as directors is that Real Madrid would merely be the warm-up game for the true match tomorrow against Kidsgrove Athletic.
"We are expecting a big crowd."
The match was advertised last Tuesday and by the morning of 1 April the club had received 15 phone calls asking for tickets.
Three people also asked Mr Matthews for tickets directly - and two of those were serious.
"They were completely unaware of the date and the sheer unlikelihood of the world's most prestigious club visiting Christchurch Meadow," he said.