Matlock parking charges for bikers approved despite protest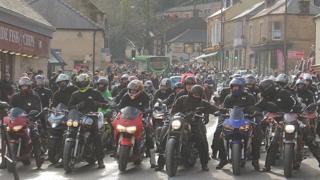 More than 4,500 bikers who opposed the introduction of parking charges in the Derbyshire village of Matlock Bath have seen their protest fail after the county council voted in the plans.
The bikers rode into the town in March in a show of opposition to Derbyshire County Council's proposals to charge car drivers and motorbikes.
Their machines are considered a tourist attraction by most visitors.
Chris Thomson, of Midlands Riders, said he was "disappointed" by the decision.
The newly-approved scheme, which had been revised after proposals were originally dropped in 2012, will see motorcyclists pay 50p per hour for a maximum of two hours on North and South Parade.
It was previously free to park in bays in those two areas for a one-hour limited stay. Car parking charges will remain the same.
The BBC understands the scheme could generate up to £70,000 per year.
Mr Thomson said more than 7,500 people also signed petitions opposing the plans, which were approved earlier on Tuesday.
"We put everything into it," he said. "It's such a lot of effort gone to waste now. The area is not going to be like it was."
A council spokesman said the scheme also means parking on Dale Road will increase from one hour to four hours.
The authority said motorbikes were "an important part" of the Matlock Bath economy, and added pay and display parking will "help to increase visitor numbers".