Driver's 'lucky' Derbyshire police car fire crash escape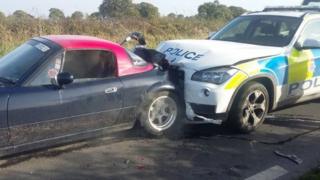 A driver says he feels lucky to "still be here" after a crash with a police BMW in Derbyshire resulted in both cars being set on fire.
Robson Green said he was in his Mazda MX-5 in a queue of traffic when the rear-end collision occurred.
Mr Green said he had to kick his door open to escape, while his passenger climbed out of the window.
Derbyshire Constabulary said they could not comment on specifics while they investigated the crash.
Mr Green said traffic had come to a standstill on the A515 between Cubley to Ashbourne on 16 October.
He said: "The fuel tank in my car burst open and set alight straight away as we were trying to get out.
"I had to kick my door open and my passenger had to climb through the passenger's window, which was luckily down at the time. Once we were out of the car, the fire spread to both, destroying them completely."
The 22-year-old, of Bolsover, Derbyshire, said he was in the car with his partner's 19-year-old brother at the time.
He said: "We were both lucky to get out without major injuries. It was an absolute nightmare. At least we're still here, that's the only way to look at it now."
Derbyshire Constabulary said inquiries were ongoing and until a clearer picture emerged, were unable to comment on the crash.