Raptors fail to breed in Dark Peak for first time since 1984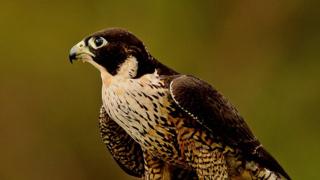 Peregrine falcons have failed to breed in part of the Peak District for the first time in more than 30 years.
A new report on birds of prey in National Park shows eight peregrine pairs in the Dark Peak but no new chicks in 2017.
The Peak District National Park Authority said it was a "real cause for concern" although peregrine numbers in the White Peak had improved.
The report also highlights a number of birds of prey persecution incidents.
More stories from around the East Midlands
The Moorland Association, the National Trust, Natural England, Peak District National Park Authority and RSPB got together in 2011 to develop an initiative to boost birds of prey populations in the Dark Peak.
The latest report reveals breeding rates remain low.
"The lack of any successful breeding by peregrines in the Dark Peak in 2017, the first time since they re-colonised the area in 1984, continues to give real cause for concern," it said.
Only the merlin, which had more than 20 pairs in the area, managed to fledge more than 10 chicks with a total of more than 50. There were 13 goshawk pairs with a total of nine chicks.
The Dark Peak is a mostly wild area in the north of the national park within Derbyshire and South Yorkshire.
Rhodri Thomas, ecologist with the Peak District Park Authority, said the results in the Dark Peak were "pretty disastrous" for peregrine falcons with no breeding success even though four eggs were laid.
He said it was difficult to determine the cause of the continued low numbers and the breeding failure but persecution of the birds was "likely to have played a role".
Tim Birch, of Derbyshire Wildlife Trust, said it was "pretty catastrophic".
The Peak District Bird of Prey Initiative report highlighted several raptor persecution incidents since 2015 including:
A peregrine killed by a gun shot
An osprey dying after being caught in an illegally set trap
A common buzzard found dead with eye injuries