Derby trampoline park reopens after arson attack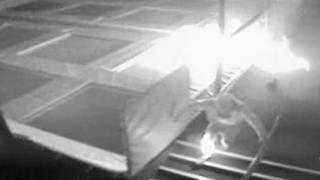 A trampoline park extensively damaged in an arson attack has reopened following a £2m rebuild.
Police have been unable to catch a man seen fleeing the scene with his leg in flames at Oxygen Freejumping, in Derby, on 9 June.
During the fire the trampoline beds melted, the steel parts buckled and plastic dust particles caused damage to the ventilation system.
Chief executive David Stalker said the "stupid" act led to a "total rebuild".
He said: "Somebody broke into the site and put some kind of lighter fuel on the trampolines and [burned] the place down.
"It was fairly awful, the trampoline beds had melted, the steels had all buckled, it had damaged up to the ceiling, that amount of dust from the plastic was obviously in the air and the ventilation system.
"[It was] an entire write-off, the best part of £2m worth of work needed to be done."
Officers have asked witnesses or anyone with information, including anyone who knew someone who had suffered unexplained burns at the time, to come forward.
Powerleague Derby Soccerdome which is in the same building, in Pride Park, has also reopened to the public.