'Risk of death' led to Derby Christmas tree cordon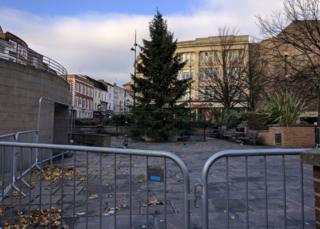 A council fenced off a Christmas tree because a risk assessment found there was "a likely risk" of "multiple major injury or fatality" if it fell over.
Derby City Council put an exclusion zone around the tree in Market Place.
After the cordon was widely criticised, the council admitted it had been "over-cautious".
A document released following a Freedom of Information request said any incident could "potentially leave the authority exposed to criticism".
More news from across the East Midlands
The risk assessment said the 35ft (10.6m) tree had been in the same place and installed by the same contractor for the last five years without any issues.
It was later revised after "no adverse effects in relation to the tree" were suffered in winds of up to 29mph in November last year, with the assessment only recommending bringing back the exclusion zone if wind speeds were greater than 40mph.
The council was advised to carry out "active day-to-day management" of weather conditions to minimise the chances of an accident.