Derbyshire Police investigated over Chesterfield custody death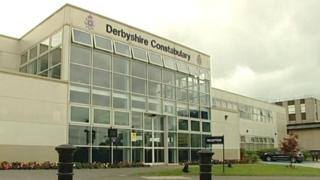 Derbyshire Police are being investigated after a man died following a "short period" in custody.
The Independent Office for Police Conduct (IOPC) said the 42-year-old was held in Chesterfield from 13:30 GMT on Sunday after being arrested over a "domestic incident".
At about 15:00 he was taken to Chesterfield Royal Hospital, where he died on Wednesday.
Derbyshire Constabulary has offered condolences to the man's family.
An IOPC spokesman said CCTV evidence from the custody suite and body-worn cameras is being reviewed, and a post-mortem examination is set to take place on Saturday.
"Police officers and staff who had contact with the man or witnessed his detention have provided us with their initial accounts of the incident, and investigators have contacted the man's family to explain our role," they said.
Derbyshire Constabulary said: "We would like to offer our condolences to the family and friends of the man who died.
"We are assisting the IOPC with their investigation into the circumstances surrounding the incident, and supporting our officers, staff and anyone affected by it."